Wise vs. Airwallex vs. MultiPass: What to choose for your business?
Running a successful business today often requires a global perspective. This entails managing finances efficiently, especially when dealing with international transactions. Wise, Airwallex, and MultiPass are three prominent players in the realm of business accounts, each with its own set of advantages. In this article, we'll dissect these options, examining their key features, pricing structures, and more, to help you decide which one aligns best with your business goals.
💡 We understand that this review is published on a MultiPass website, and we're competing with Wise and Airwallex in the payment industry. However, it is our goal to avoid any bias and provide high-quality material based on industry expertise, public sources, reviews, and discussions with clients who have had experience with our competitors. While we hope you'll consider us, it is important that you make the choice that best fits your business needs. The review is based on data as of October 2023.
About Wise (ex TransferWise)
Founded in 2010 by Estonians Kristo Käärmann and Taavet Hinrikus, Wise is a renowned financial technology company that received rapid growth due to its UX-friendly personal accounts and borderless cards helping frequent travellers and expats spend and send money across borders with transparency and low fees. It quickly gained popularity in Europe and expanded into several global markets with its innovative approach to currency exchange. Nowadays Wise holds EMI (Electronic Money Institution) licences in several locations and offers personal and business accounts.
About Airwallex
Founded in Melbourne in 2015, Airwallex is an Australian-born global payments company that has grown strong in the Australia-Pacific region and expanded globally with regional offices and EMI licenses around the world. The company focuses on streamlining foreign exchange processes and cross-border operations for businesses retailers and brands selling globally as well as tech, online services and more.
About MultiPass
Founded in 2017 as an internal payment solution for the Dyninno Group of companies, MultiPass became available to businesses with complex multi-currency international payment needs. With offices in London, Delhi, Dubai, Riga, and Moldova, the company carved out a niche by focusing on UK, EU, and UAE-based businesses with international partners, suppliers, and employees. MultiPass specialises in handling high-volume payments for businesses with narrow profit margins, with a particular emphasis on wholesale trade, e-commerce, and IT companies and offering prime quality private banking-like support. The company holds an EMI license.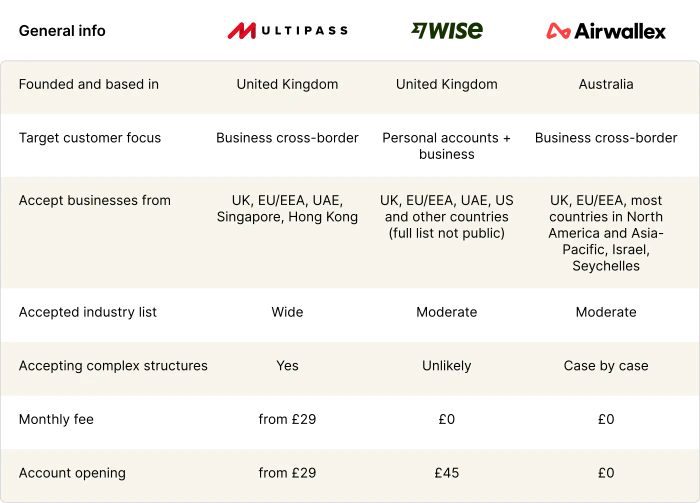 Main business features of multi-currency accounts
All provide local bank account details that make it easy to receive money from customers and counterparties abroad, without setting up additional business entities and bank accounts abroad.
Moreover, you can save money on outgoing transfers globally with cheaper payment options in all major currencies to pretty much every world destination.
All business accounts provide both virtual and physical cards that can be issued and managed through their respective online banking platforms, making it easier to manage corporate travel, online orders, subscriptions, and various other business expenses.
There are some additional features such as multi-user access with different permission levels (e.g. treasury, business owner or employee).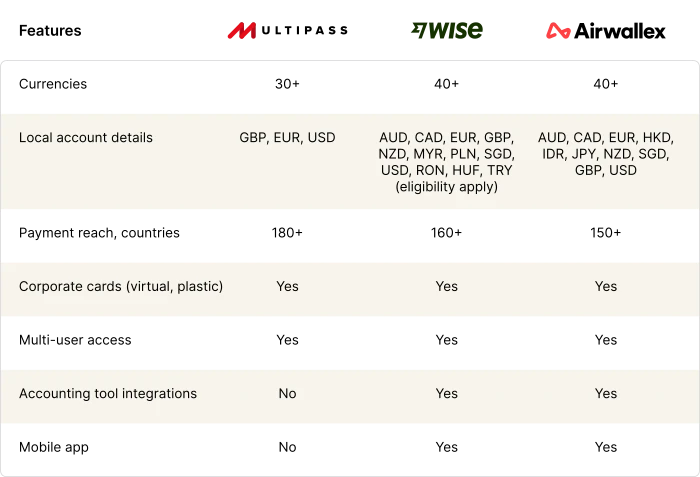 Compare fees for local and international payments
All of these fintech companies outperform traditional banks when it comes to charges for cross-border transactions. After all, this is their specialised niche. They do it by sending money via local payment methods that are cheap and fast, and usually unavailable with traditional banks outside of their country of operation. Moreover, their international money transfers (SWIFT) are usually cheaper as well.
The chart below compares outgoing transfer fees among the MultiPass Global Plan (a special package tailored for businesses in international trade, e-commerce, and tech industries), as well as the standard Wise and Airwallex plans for UK entities.
Your overall winner in terms of the cost of international transfers will depend on factors such as the payment's size, the chosen currency, and the location of the recipient's bank.
Currency exchange rate of business account providers
All these platforms offer rates that are significantly more cost-efficient than those of traditional banks, ranging from 0.43% to 1% over interbank rate or more, depending on the currency and location (compared to 2% to 4% usually charged by the banks).
At MultiPass, individual customers can have bespoke FX markups, but these markups remain uniform across all currency pairs, while Airwallex and Wise vary their markups. For instance, Airwallex FX rate markup for UK-based entities is 0.50% for AUD, CAD, CHF, CNY, EUR, GBP, HKD, JPY, NZD, SGD, USD and 1% for the rest available currencies.
Airwallex account vs. Wise account vs. MultiPass: Supported currencies
While the lists of the currencies are wide, some of them may not be available in your business jurisdiction. It is important to note that some currency balances can be held in multi-currency wallets indefinitely while others can only be converted for sending straight away. Make sure to check this information or consult with the service provider before applying for an account.
MultiPass currencies
36 currencies including AED, AUD, BHD, CAD, CHF, CNH, CZK, DKK, EUR, GBP, HKD, HUF, IDR, ILS, INR, JPY, KES, KWD, MYR, MXN, NZD, NOK, OMR, PHP, PLN, QAR, RON, SAR, SEK, SGD, THB, TRY, UGX, USD, ZAR.
Airwallex currencies
46 currencies including AUD, CNY, USD, HKD, EUR, GBP, CAD, SGD, CHF, NZD, JPY, THB, SEK, NOK, DKK, HUF, CZK, PLN, RON, IDR, MYR, PHP, TRY, INR, VND, KRW, BDT, LKR, NPR, PKR, MXN, ILS, ZAR, BHD, EGP, AED, SAR, MAD, CLP, ARS, BRL, COP, BOB, PEN, UYU.
Wise currencies
55 currencies including AUD, BGN, BRL*, CAD, CHF, CZK, DKK, EUR, GBP, HKD, HUF, IDR, INR, JPY, MYR, NOK, NZD, PLN, RON, TRY, SEK, SGD, USD, AED, ARS, BDT, BWP, CLP, CNY, COP, CRC, EGP, FJD, GEL, GHS, ILS, KES, KRW, LKR, MAD, MXN, NPR, PHP, PKR*, THB, UAH, UGX, UYU, VND*, ZAR, ZMW. (*only for payments to/from individuals)
Customer support: Who does it better?
Navigating the intricacies of international payments can be daunting, with transactions occasionally stalled or inexplicably rejected. Having accessible support is vital, especially for time-sensitive, high-value transfers. Here's how platforms like MultiPass, Airwallex, and Wise compare in offering this assistance.
MultiPass support
MultiPass assigns a Dedicated Manager to each customer to be accessible through email, phone, and messengers. They provide consistent assistance, ensuring that you work with the same banking expert who understands your company's needs and is ready to assist swiftly. Additionally, the Support Team is available to address customer questions and general inquiries by phone, email or online chat.
Airwallex support
Airwallex has more limited support, however, provides account managers for selected customers. Despite onboarding businesses from around the world, their phone support is restricted to Canada, the United States and China. This leaves the majority of their support interaction to be handled through email.
Wise support
Wise, in contrast, does not offer personalised support but relies on self-support resources (help centre articles) and email communication. While their platform boasts a user-friendly interface, which can be advantageous for many tasks, it may pose challenges when encountering payment issues, account freezes, or other problems. Since a different person may handle each support ticket every time, resolving issues quickly may not always be possible.

Which multi-currency account is best overall?
Given the factors mentioned above, there is no single winner, as the choice ultimately depends on your specific business needs, size, industry, registration country and the location of your business partners.
Why choose Wise
Wise offers a straightforward and cost-effective solution, ideal for businesses with uncomplicated payment needs. It caters to tech-savvy users who prefer conducting their financial operations through user-friendly platforms and mobile apps and do not require additional support or consultations. Young businesses and freelancers find value in Wise's integration with accounting software and efficient expense management.
Why choose Airwallex
Airwallex excels in facilitating transactions with regions like Australia, Hong Kong, Taiwan, and the United States. It boasts a diverse range of local payment accounts and networks globally. Airwallex can be pretty affordable, but its cost-effectiveness varies depending on your location. Airwallex is a reasonable choice for small businesses and scale-ups with simple ownership. It offers services and API integrations, making it particularly valuable for e-commerce businesses.
Why choose MultiPass
MultiPass distinguishes itself with its dedication to personal support, providing a private-banking-like experience for its customers. It offers cost-effective multi-currency solutions tailored to businesses in wholesale, IT, and E-commerce sectors, and welcomes other industries too. The onboarding process is marked by professionalism and thorough attention to every business application, including those with international ownership or more complex payment flows, often underserved by traditional banks. The offer is particularly appealing for businesses based in the UK, EU, UAE, and those with global partnerships.
Apply for a Business Account with MultiPass today!



Sources:
https://wise.com/help/articles/2977974/can-my-business-use-wise
https://help.airwallex.com/hc/en-gb/articles/4408591334937-What-country-does-my-business-have-to-be-registered-in-for-opening-an-Airwallex-account
https://www.airwallex.com/terms/sign-up-terms
https://www.airwallex.com/uk/terms/fee-schedule
https://wise.com/gb/pricing/business
https://wise.com/help/articles/2897238/which-currencies-can-i-add-keep-and-receive-in-my-wise-account?origin=related-article-3MObHiWysjT2DzDNHTupa4
https://www.airwallex.com/business-account/global-accounts
https://wise.com/help/articles/2571907/what-currencies-can-i-send-to-and-from
https://www.airwallex.com/docs/transactional-fx__supported-regions-and-currencies
https://help.airwallex.com/hc/en-gb/requests/new
https://wise.com/help/articles/4ijaGT6BdeHNVjzbRip4gI/how-do-i-contact-wise
https://www.trustpilot.com/review/wise.com
https://www.trustpilot.com/review/airwallex.com

Need a multi-currency account for global operations?
Consider MultiPass: 30+ currencies, global and local accounts, private manager support.