We have rebranded
First up, let's address the elephant in the room – our brand name change. The long-awaited transition from DynaPay to MultiPass took place at the end of March along with the launch of our new brand identity and website. We're happy to have a name that much better reflects our nature and are ready to embark on a new phase of international growth under our new bold brand. All while continuing to provide the same high level of service our customers are used to.
New MultiPass office in London
This February our London-based team has successfully moved into new premises, a new bright office right in the heart of the city, on Baker street. Although we are serving our customers remotely, if you're ever in London, come say hi – we love guests. Book your visit in advance here.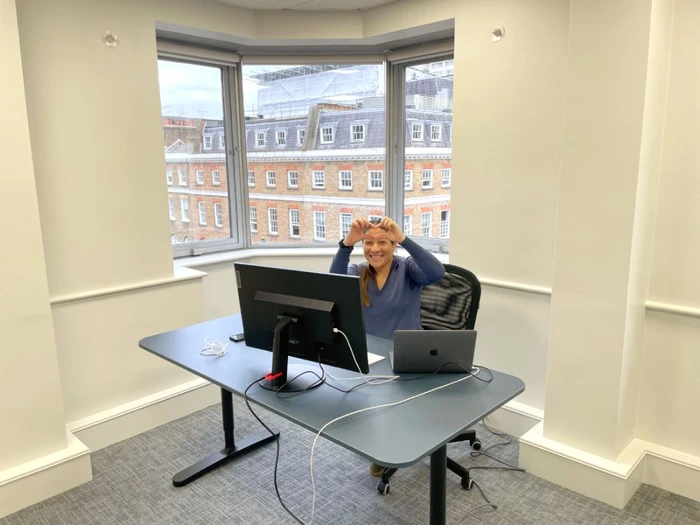 Our happy MLRO Ilda in the new office on Baker street (before it was decorated), early February 2022
Expanding both East and West
As we're building a truly international payments product, we are ready to adjust it and promote it in new markets. No payments product is born truly universal, but it can become one after adaptation based on research and understanding of the local market needs. We started this process at the beginning of this year by hiring our first team member in the United Arab Emirates, and we're continuing our global expansion with the recent onboarding of our first US-based business representative.
Multi-currency collections from any part of the world
The inbound payment geography on our main multi-currency account (BIC/SWIFT number TCCLGB3L) has expanded 4 times! This means our customers can easily grow their network of global partners and clients, accepting payments in USD, EUR, GBP and 30+ other currencies from over 180 world countries – from Aland Islands to New Zealand.
Payment solution for UAE-based companies
One of the first updates of this year was most appreciated by our customers based in the UAE or those with partners, subcontractors or clients in Dubai: SXPYDKKK multi-currency accounts were supplemented with United Aram Emirates dirhams (AED), which now makes this channel a convenient comprehensive solution for building new trade routes between the UAE, Europe and beyond.
New payment opportunities for the Gaming industry
The gaming industry shoot up vigorously these recent years of on-and-off lockdowns. With people spending more time at home than ever, the demand for video and mobile games increased, and where there's a demand, supply surely follows. We see more and more young and creative gaming companies appearing every day and requiring payment solutions, and we've got good news for them. Game developers can now enjoy quick global transactions in USD as well as a number of other currencies including EUR, GBP, AED, CAD, CHF, CZK, DKK, HUF, HRK, PLN, RON and SGD along with local payouts in the UK and EU, and instant foreign exchange.